In Los Angeles this Friday for .NET Rocks Roadshow
Once again, those crazy fools Richard Campbell and Carl Franklin are touring around this great country of ours in a big ass RV as part of their .NET Rocks Road Trip. Last time it was for the launch of Visual Studio 2010. This time it coincides with Visual Studio 2012.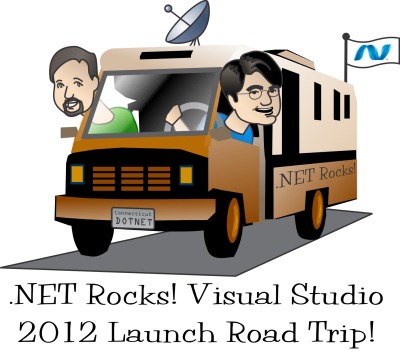 At each stop these gentlemen each give a presentation and then they interview a guest. If you're in Los Angeles this Friday (November 30, 2012), you're stuck with me as the guest. So stop on by and we'll try to keep it interesting. If not, we'll go out for some drinks afterwards and something interesting is bound to happen. These two fellas are full of mischief.
If you do plan to show up, please register here so they can get a rough headcount. I won't make any promises as I'm notoriously forgetful about these things, but I'll bring a copy of Professional ASP.NET MVC 4 to give away as well as some GitHub and NuGet stickers.
The last time they had a roadshow I joined them in Mountain View, CA and we had a blast. This time, I'm excited to return to Los Angeles where I went to college and had my first programming job.
Found a typo or mistake in the post? suggest edit