I'm reading through the archives of a blog where the author posts something random every Friday (yesterday was Thursday, and tomorrow is Saturday). His Friday posts are completely unrelated to the main theme and content of his blog.
I like that idea a lot. I don't blog as much as I used to mostly because I feel the need to spend so much time on each blog post. A lot of the posts I write take a bit of research and experimentation before I'm ready to post them.
But a random thought? I can pull one of those out of my ascot any day of the week, and twice on Friday. But I'll only do it once.
And yes, thanks for asking, but the thought has occurred to me that I already have another medium where I post random thoughts 7 days a week, Twitter (I'm @haacked on Twitter).
But my twist on this is that every Friday, I'll post something random, funny, amusing, or whatever in this blog post, and I'll use more than 140 characters but I'll always end the post with something I appreciated either during the week, or in general.
This Friday's random thought is about starting a random thought Friday blog series and whether this will end up being a one post series like the rest. So there, I've done that part.
And the thing I appreciate this past week is how nice it was to take a day off and spend it with my wife. Oh, and Instagram. I appreciate Instagram a lot. Perhaps too much. I'll try easing off the Tilt-Shift from now on.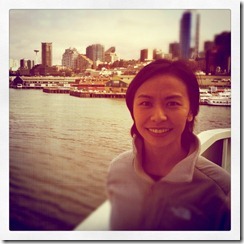 Here's where I violate my wife's privacy and post a picture of her on a ferry to Bainbridge Island on my blog. We had a really nice outing on Tuesday.
Found a typo or mistake in the post? suggest edit