Attention Denizens of Black Rock City
Our eye in the sky reports two angry evil (but devishly good looking) cyborg units, XSP 2000 and TRS-80, are fast approaching Black Rock City. They are considered very armed and dangerous. In fact, they are mostly armed and not much else.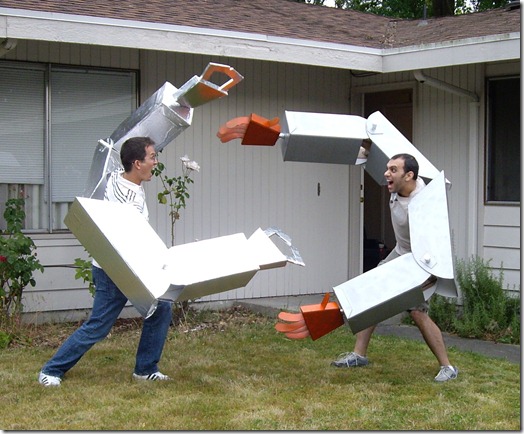 These cyborgs do not come in peace. I repeat, they are to be considerd hostiles. However, we've received a secret communiqué that reveals a weakness built into these cyborg models. Due to a lack of TDD during development, a bug in their FOF system (friend or foe) causes them to view anyone offering a frosty beverage to be a friend, not foe.
Any attempts to engage with these hostiles will result in calamity unless you offer them an ice cold beverage. For the sake of your beloved city, I suggest stocking up.
Intelligence confirms they are headed towards their evil cyborg camp at 8:15 and Kyoto on the Playa and are predicted to arrive on Tuesday morning. If we band together, we may be able to save our fair city by, once again, offering frosty alcoholic beverages in order to confuse their FOF system.
You've been duly warned.
This blog (and associated Twitter account) will go quiet for at least a week as communication systems are nonexistent within the Black Rock City area.
Found a typo or mistake in the post? suggest edit