Oh Yes It's Ladies Night
…and the feeling's right.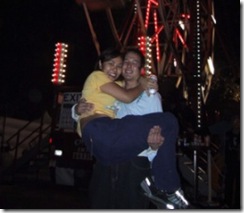 If I can muster up the time and motivation, I like to try and post lighter more humorous fare on Fridays such as my recent RAS Syndrome post.
On this beautiful Friday day (is that redundant too?), I started off fresh out of ideas (and motivation) so I wasn't planning on writing a blog post at all, until this was just handed to me.
Which Software Blogger Do Girls Like Better?
In this post, Nick Berardi takes a quick look around at the demographic information collected by Google's new ad planner.
Consider for a moment, what this data represents. It is a huge database of information on surfing habits of perhaps nearly the entire Internet, collected via huge data centers consisting of unfathomable computing power (as well as power consumption). Not to mention the huge amount of data it represents and the incomprehensibly advanced statistical analysis algorithms that must be employed to properly sift this data.
Nick has all this power at his disposal to answer the pertinent question of the digital age.
Which geek blogger do chicks dig?
In the list, he compares bloggers such as Jeff Atwood (aka CodingHorror or is it CodingWhore, which might explain his results), Joel Spolsky (aka big red WTF guy), Scott Hanselman (aka Mr. "Writes About Hair")… and then there's me, the short end of the stick.
Now Jeff might have over 10 times the subscribers I have, Joel may be the most famous and respected of the bunch, and Scott may have the edge on me in terms of forefivehead, but guess who wins the only metric that matters?
That's right, me suckas!
Eat that, CodingHorror!
Map Reduce FogCreek to FogWeak, Joel Spolsky!
Hanselminute is a minute too late, Scott Hanselman!
Of course, at this point is when my wife pinches her fingers together and holds them up to my temple and makes a loud hissing sound of air rushing out. After all, compared to the traffic level of these guys, my traffic is small enough that her periodic visits to my site would make a dent in the percentages.
And as my coworker Eilon points out, I'm celebrating what is effectively a made up score. "Hey everyone, I created this chart with this made up score, for which I have the highest one. I rock!" My retort is that his fascination with X-Box Achievement points is no different.
I guess I won't quit my day job and become a male exotic dancer then. Carry on everyone.
Found a typo or mistake in the post? suggest edit