Geek Dinner In Seattle/Redmond Sunday Night
UPDATE: We decided on the Three Lions Pub in Redmond at 7:30 PM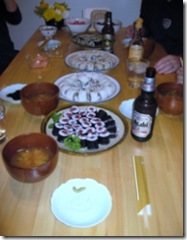 I'm going to be in Redmond next week and would love to get a geek dinner together around 7:30 PM. My flight gets in at 5:18 PM so I hope that's doable. Anybody interested in joining us?
I think Scott Hanselman, Brad Wilson, Scott Koon, and Scott Densmore will grace us with their presence. If you're interested in showing up, post a comment so we get a rough idea of numbers.
Topic for discussion, Forget Separation of Concerns, what does MS Dev Div have against Spaghetti Code? I like spaghetti!
Another potential topic of discussion, Render on POST - A fool's http response or a pragmatic approach? Choose a side and let the all-out bare knuckle bloody brawl begin.
Final topic, if you believe GET is the one true way to render and prefer redirect on POST, which one do you choose? 302 or 303?
Found a typo or mistake in the post? suggest edit