GMail-like Loading Indicator with ASP.NET Ajax
Simone Chiaretta, a member of the Subtext development team (among other open source projects), has been quite busy lately. I recently mentioned the Vista Sidebar Gadget for CruiseControl.NET he published. He also was recently in a video interview by MindBlog. Go Simo!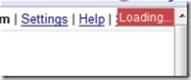 The post that caught my eye recently is how to make a Gmail-like loading indicator with ASP.NET Ajax. This is a nice demonstartion of how to use the ASP.NET Ajax library to simulate various styles of user interface.
Personally though, I'm not a fan of this particular loading indicator at the page level. When I have my browser fully expanded, I sometimes don't notice it. However, it works great when constrained to a box, such as the corner of a login box.
Found a typo or mistake in the post? suggest edit