Played Soccer Against The Juggernaut
Today my team had a friendly preseason game against Hollywood United. They fielded a mixture of a few players from their 40 and over team, but most of the players were from their main team.
While Alexi and Frank were not there today, Hollywood did field the Mean Machine, Vinnie Jones. He is a former professional player from England who was part of the Crazy Gang team that won the FA cup in 1988. He's notorious for dirty play, but now more well known for his acting, such as the role of the Juggernaut in X-Men 3.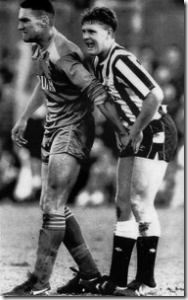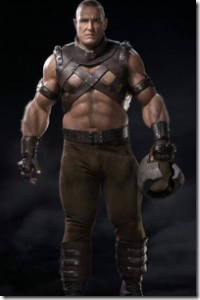 Despite being known for his rough tactics, it still takes talent to play at the level he played at, and it showed today. He put in a sweet freekick to the upper corner. And yes, he looks even meaner in person than he does on film. He's a tough looking Mofo.
Another well-known player was Steve Jones, former guitarist for the punk band the Sex Pistols, who also hosts Jonesy's Jukebox. Jimmy Jean-Louis is also on the team. He plays the guy who can erase memories on the new NBC show, Heroes. They're not kidding when they call themselves Hollywood United.
At the end of regulation, we were tied 4 to 4. Since it was a friendly and we had paid for the field for 10 more minutes, we played a short overtime period in which they scored two more goals, the final being 6 to 4. We should've faked injuries and left while we were tied.

Found a typo or mistake in the post? suggest edit