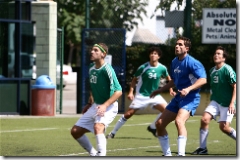 Way back when I announced the first Roadmap for Subtext, I stated that Subtext would remove the multiple blogs feature and only support a single blog.  Fortunately I was persuaded by many commenters to abandon that change and continue to support multiple blogs.  Instead, I set out to simplify the process of configuring multiple blogs.
Now I am really glad that I did so.  I currently have three blogs running off of a single installation of Subtext.
This one https://haacked.com/
My non-techie blog http://phil.haacked.com/
My soccer team http://westsiderovers.com/
The benefit of this approach is that setting up a new blog is very easy. Rather than dealing with the rigamorel of setting up another IIS site and database, I can simply add a new DNS entry and point it to my existing IP address, add a host header in IIS, and then create the blog in my Host Admin.
Three easy steps to a new blog.  I better be careful or I may get too crazy with this.  A blog for every day of the week, anyone?  You know, to color coordinate with my outfit.
Found a typo or mistake in the post? suggest edit