Think I'm Just Too White And Nerdy
UPDATE: Via Dare I learned that the video was leaked to YouTube prior to its world premier and has been taken down. You can find the song on Weird Al's MySpace page. I've updated my link.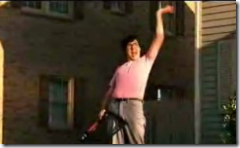 This video from Weird Al Yankovich cracks me up with such lyrical gems like this:
The only question I ever thought was hard. Is do I like Kirk? Or do I like Picard?
Mad props to Al whose flow could give Eminem a run for his money.  Click on the image to watch the video on YouTube. Beware, the tune is catchy and you might catch yourself singing it later.
Via Jason Calacanis.
Found a typo or mistake in the post? suggest edit