Four Good Years And The Prospect Of Forty More
Just a little shout out to my wife to wish us a happy anniversary.  We've been married for four years and each one has been better than the last.  I love you honey!
She's got a rock solid sense of humor (have you seen her gravatar?) and a smile with a gleam so bright it makes you shout Eureka!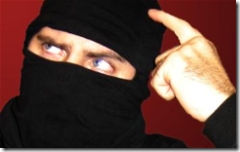 I would post a picture, but my wife's sense of online privacy would make Bruce Schneier look like a MySpace exhibitionist.  In fact, I've already said too much. 
Instead, I'll post a picture of a ninja because ninjas have a lot in common with my wife.  They both kick ass, they are both Japanese (except for this one), they are both concerned about privacy, and like my wife, ninjas are so totally cool!
I mean who doesn't love ninjas!?
Picture from AskANinja.com
Found a typo or mistake in the post? suggest edit