Three Screens Are Better Than Two
Since I had a rough week last week, I thought I would post something fun today. While some people are just jumping on the dual-monitor bandwagon, I have recently moved on to three screens.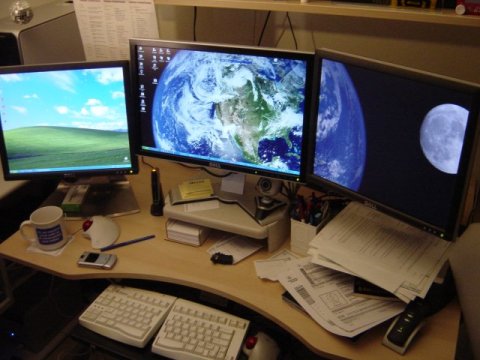 Of course that is not exactly true. The two screens on the right are attached to my new Dell Dimension 9150 workstation. The one on the left is attached to my old Shuttle system. That there is running the VMWare Server that hosts Subtext's CruiseControl.NET build server.
The only reason I got the third screen is that because of a deal they were offering, it actually lowered the cost of the lease to get this screen than to not get it. You can't beat a deal like that!
Rather than using a KVM, I am using MaxiVista to remote control the computer via the third monitor. That works pretty nicely, though MaxiVista seems to hiccup alot.
Found a typo or mistake in the post? suggest edit