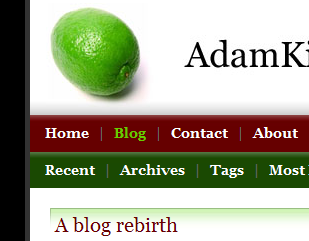 Adam Kinney recently unveiled a redesign his blog. I posted a snippet there to the left.
Adam is one of those rare developers who has both solid design skills to complement his solid coding chops. In other words, he makes me sick, rubbing our absolute lack of design skills in our faces.
It is overall a pretty sweet design. The layout is clean with a crisp headline. My only niggle is the styling (or lack of) of the Recent Entries list. Just a little more CSS will go a long way there.
Keep up the good work, man.
Found a typo or mistake in the post? suggest edit