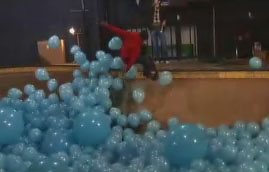 Let me know if you like these videos I'm posting or if you're one video away from cracking my skull with a wet noodle. Cause if you want to crack my skull, you're really going to have to wait in line.
Meanwhile, watch as this skateboarder skates through a pool full of blue balloons for a neat visual effect.
Update: As Diego points out, I always forget to link. Damn it! Well I linked it now!
\
Found a typo or mistake in the post? suggest edit