Welcome Home Discovery, Thanks for Setting Off the Car Alarms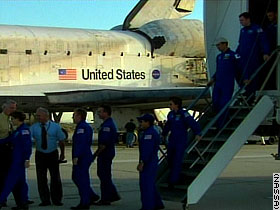 Very early this morning my slumber was disturbed by an extremely lound noise. Like Maverick in Top Gun, those durn shuttle astronauts did a fly by enroute to Edwards, setting off car alarms and howling dogs in the neighborhood. Couldn't y'all have flown by quietly. There were people sleeping you know. Next thing you know, them punk astronauts will attach a huge bass subwoofer in the back of that thing, spinners, just to let you know what's up.
All kidding aside, I am glad to hear they made it back safe and sound (a big sound). I wish I would have known they were swinging by. I wonder if I would have been able to see it from here.
Found a typo or mistake in the post? suggest edit