Code Camp Black Rock City?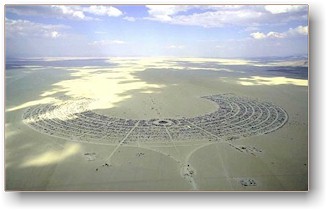 Ok, this is kind of a crazy idea, so as Ron Burgundy would say,
I wanna say something. I'm gonna put it out there; if you like it, you can take it, if you don't, send it right back.
I have to admit, I am a bit jealous that there hasn't been a Code Camp in the Los Angeles area AND that I cannot attend the Portland Portland Code Camp. It sounds like there will be some very interesting people attending and giving talks.
For the uninitiated, a Code Camp is a weekend gathering of geeks for the community by the community. Geeks from all over gather to hear other geeks (generally not big name speakers) talk about interesting code and tech. It is not Microsoft specific, though there seem to be a lot of .NET focused talks.
Now you might say I should quit my bellyaching (if you were inclined to use such dated phrases) and suggest that I start one in Los Angeles. That's really a great proactive idea and I hope someone takes it up because I simply can't. At least not this year because I have too much work and two mandatory trips I am taking. The only way I could help organize one is if I were to combine it with one of my trips.
So here's where the crazy idea part comes in. The week of August 29 through September 5 (give or take a day), I'll be out soaking in the ambiance of Black Rock City in the desert near Gerlach Nevada attending a quaint little festival known as Burning Man. Wouldn't it just totally suit my agenda (and kill two birds with one stone) if I could drum up interest in a Code Camp in Black Rock City? I'm really not sure how many attendees are code jockeys and would be interested in this, but if we even had ten people, it'd be worthwhile. It wouldn't be too hard to get it on the BRC calendar of events as perhaps a more informal version of Code Camp.
It's too bad I didn't have this idea before because I might have been able to get Chris Sells involved as that crazy cat went to Buring Man last year.
In any case, I read the Code Camp Manifesto and I do see one potential issue:
#2 Says that code camps are always free. Burning Man itself is not free to attend, but we could certainly make the code camp free within the context of Burning Man.
So what do you think of the idea? Do you think I'm smoking something, because I'm not. At least not right now. Or is this perhaps not a terrible idea? Thoughts? Are any of you even going? Maybe if Scoble puts the word out, we can see if there's any interest.
This is just an idea I'm putting out there. I am making no commitments or guarantees.
[Listening to: GF - Burning Man (Gee Shock Remix) - Anthony Pappa - Nubreed 001 CD2 (4:58)]
Found a typo or mistake in the post? suggest edit