Visual Studio.NET New Project Template Folders
I'm sure you're constantly asking yourself this, because I certainly wake up every morning in a cold sweat wondering. When you add a new project in Visual Studio.NET 2003 (friends call her VS.NET), you get the following dialog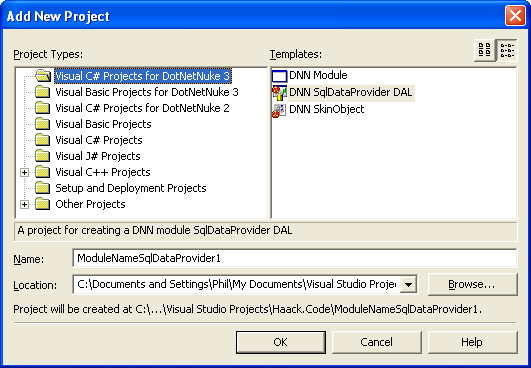 The beginnings of another bug ridden coding section…
Now looking at that familiar dialog underneath the "Project Types:" section, you probably noticed the usual suspects are there: "Visual C# Projects", "Visual Basic Projects", etc… But did you also notice there's a few other folders there such as "Visual C# Projects for DotNetNuke 3"?
Now for the million dollar question: How do you add your own folder there?
Reading through what I could find online, I understand how to use your .vsdir and .vsz files to create a new template, but I couldn't find anything that described how to create your own project type grouping.
So I did a little digging through the registry and found the following registry location:
HKEY_LOCAL_MACHINE\
    SOFTWARE\
        Microsoft\
            VisualStudio\
                7.1\
                    NewProjectTemplates\
                        TemplateDirs\

Just to make sure that adding keys to this location in the registry was sufficient, I brashly took Regedit (without even backing up my registry, an incredibly stupid thing to do), and created a new sub key, using SQL Query Analyzer and the newid() function to generate a new GUID for me. Under that key I added a sub key named "/1". Under that key I set the following three values as seen in this screen shot.


Must this egotistical idiot use his last name in everything?
And here you can see the registry keys structure. The one I added is at bottom.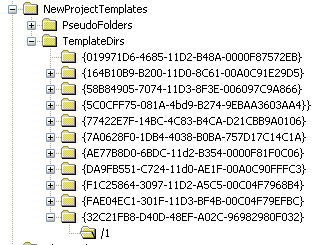 Ahh, "Haack" is nowhere to be seen. Forturnately it's not a proper GUID.
So the next step is to create a VS.NET Setup and Deployment project to package my templates and add this registry setting automatically. Hope you can sleep peacefully now.
Found a typo or mistake in the post? suggest edit