It's no iPod, but it is 100GB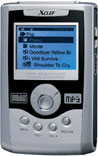 Saw this on Gizmodo. It's bigger and not as nice looking as an iPod, but it is 100 GB.
The DMC Xclef 500 also supports Ogg Vorbis and even WAV—with a 100GB drive, you could start ripping your CDs with no compression at all. The 100GB version is $450 from DMC's online store.
Found a typo or mistake in the post? suggest edit